'Like mountain goats head-butting each other': The training session that announced Hooper's arrival
It was a decade ago that Michael Hooper turned up a Brumbies pre-season training session in Canberra.
Former Wallaby Stephen Hoiles, who was captaining the Brumbies at the time, still remembers it like it was yesterday.
"I remember it all," Hoiles tells RUGBY.com.au.
"I remember looking at his highlights tape before he came down, being told, here's a few guys coming through, have a look.
"I remember having a look at his highlights reel - and you can still find it - and it was phenomenal and I wasn't sure if he was a halfback or a centre or a hooker or a seven, he was everywhere."
Once he arrived, Hoiles was just as impressed.
Except before the blonde baby-faced Hooper had settled into the nation's capital he'd disappeared.
"He came down and I remember he trained for two weeks and then went away for a week and we weren't sure where Hoops had gone, and he'd gone off to schoolies - that's how young he was," Hoiles quips.
Even before he'd taken the field, Hoiles knew the kid was going places and one scrummaging session - an aspect of the game that is usually reserved to talking about front-rowers - long-serving Wallabies prop Bill Young reinforced that view.
"It was funny because he and Colby (Fainga'a) were neck and neck the whole off-season and they competed really hard (for a spot in the side)," Hoiles recalls.
"Bill Young was the scrum coach and we had a big training camp down at HMAS Creswell and we were doing scrummages, and later that night Bill Young came over and was like, 'Have a look at this? Look at how good this is?' and he was showing footage of the scrum training.
"He told the 7s the rule is, if the scrum ever comes around and you can hit the opposing prop's ribs you've got to slide up and smash him if the scrum starts to wheel. Hoops then flies into Guy Shepherdson's ribs, so Colby goes 'So what do I do if that's the case' and Youngy responds, 'If you ever see a flanker hit your prop, you just head straight into your flanker' and he's gone 'What do I hit him with?' He's like, 'Just put your head wherever you can'.
"Basically Hoops and Colby were just going back and forth at each other like mountain goats head-butting each other during this scrum session and Bill Young was just so proud that he had two young kids that were putting their bodies on the line and ripping in."
A few months later, an 18-year-old Hooper was called up to make his debut against the Chiefs after Wallabies legend George Smith was injured.
Bigger shoes you couldn't ask to fill.
But the Brumbies, with Wallabies littered throughout their side with Matt Giteau and Stirling Mortlock filling the midfield, Adam Ashley-Cooper at fullback and Rocky Elsom at blindside flanker, had no concerns of the teenager from Manly stepping in for Smith.
"You knew very early on, as a matter of fact I thought the same thing with Colby, you knew very early on that there was something unique about the guy," Hoiles says.
"He'd come off not playing much in year 12 because of a bad shoulder and that might have surprised a few people because he wasn't your year 12 stand-out student, but he didn't surprise us.
"It's very easy to say now but he was so fast, small but powerful and tough, and he had a great tackle technique.
"Obviously you're worried that George Smith's ruled out but at the same time you're excited for a guy who worked hard all off-season."
"I remember his first game against the Chiefs. It might have been his first touch that he scored a try. It was really early in the game."
Indeed it was early in that round seven fixture in March, with Hooper scoring in the 20th minute off the back of a lineout set-piece play which saw replacement halfback Josh Valentine slice through off the back of Ben Hand's quality ball from the back of the lineout and put Hooper away to score next to the sticks.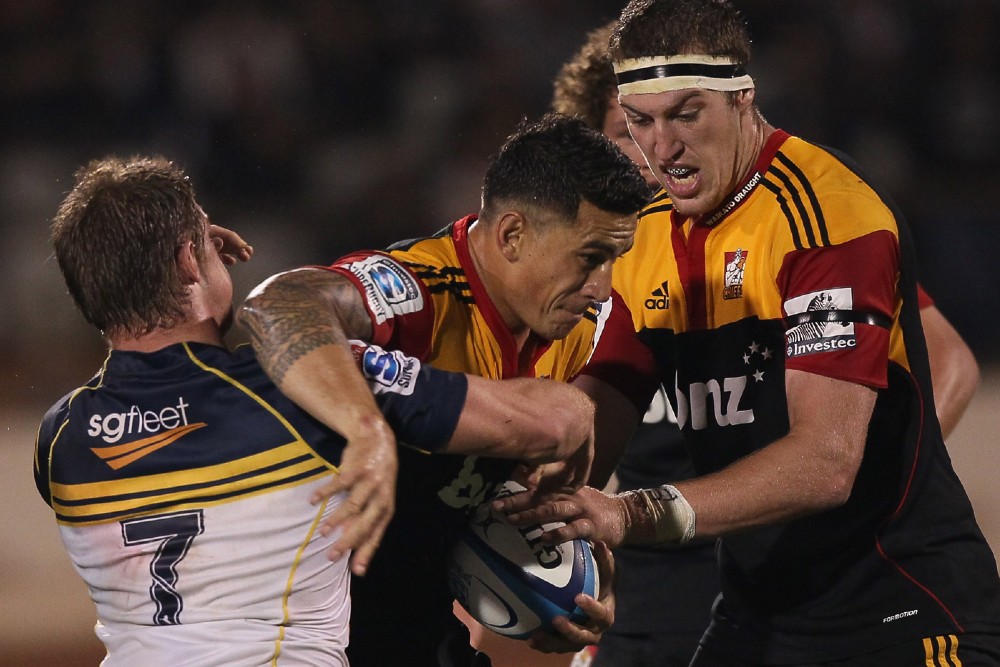 Fast-forward to Friday night and Hooper runs out for his 150th Super Rugby match against the Western Force and becomes the 10th Australian to reach the milestone.
He smashes Kurtley Beale's record (30 years, 111 days) by more than a year, notching the feat aged 28 years and 290 days.
Not bad for a bloke who was thought too small to be a flanker by World Cup-winning Springboks coach Jake White, who joined the Brumbies in 2012.
"That's the problem in rugby is that people always try and think where do they fit?" Hoiles says.
"Sometimes it didn't matter where they fit, they just fit on a footy field.
"Jake White was trying to say that was Hoops was too small and wouldn't make it, he wouldn't be big enough to play Super Rugby as a back-rower, so he's dealt with that the whole time.
"It's frightening to think how many games he'll end up with if he keeps going the way he is."
Matt To'omua, who was at fly-half against the Chiefs on that March evening in Canberra in 2010, also remembers Hooper's entrance into Super Rugby.
"He's come a long way, to be fair to him, Hoops," To'omua tells RUGBY.com.au.
"Colbs was the one with all the wraps. But Hoops, the tough bugger that he is, hung in there, developed and made a name for himself and ended up becoming our Wallaby captain and he'll be a great of our game.
"It's been pretty cool to be alongside him during that and watching it has been awesome."
So what separates him?
"The mental side of him," To'omua, a veteran of 52 Tests says.
"Physically, he's obviously very fit and strong but he's not leaps and bounds above other guys, but mentally he's a tough bugger, proper tough and proper dedicated to his craft and he cares so much about it and he's not afraid of caring.
"You see sometimes after games and he's shattered and he storms off because he puts so much effort into it.
"That's one thing that I love about him.
"He is always going to give everything he's got. He would carry so many injuries from playing that position but he's so durable, I'm sure he's suffering in silence.
"He's just a proper tough bugger and he wants the best for Australian rugby.
"More than anybody I know currently playing, he genuinely wants the best for Australian rugby and wants to see us doing well both on the international stage and domestic stage for the Tahs.
"That care and that desire that he has is unrivaled in Australian rugby at the moment."
Care in the jersey is something few players like to be questioned about. It's the one that can rile a player up more than anything else, having their passion questioned.
So is it the fact that Hooper shows his emotion more than others or does he genuinely care more?
"A bit of both," To'omua says.
"Hoops, to a point wears his heart on his sleeve, when he's playing you see a bit of emotion but he's very well put together in a sense that he can do a press conference straight after. You do see in that time before a press conference and the full-time whistle, you do see genuine emotion from him whether it's positive or negative but you do see some proper disappointment when he loses.
"Whilst I'm sure a lot of guys are disappointed, I think Hoops sees the responsibility that he is Australian captain.
"He sees that it is his time to do what he can for the game and I think he feels it more than other guys to be honest. It's what I love about him, he cares so much for his club and his country."
This article was originally published on RUGBY.com.au.